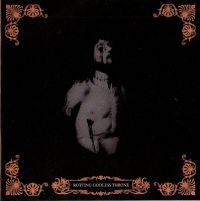 Artist: Father Befouled
Album: Rotting Godless Throne
Year: 2010
Rel. Date: 2010-10-22
Genre: Death Metal
Label:
Nuclear
War Now!
Source: Vinyl (7")
Type: EP
Quality: VBR, 44.1kHz, Joint Stereo
After a year of turmoil and adversity, Father
Befouled returns with "Rotting Godless Throne",
the darkest, most soul crushing Father Befouled
recording to date. Serpentine, meandering riffs,
abysmal doom, and pounding, engulfing vocals. The
band have stayed true to the influence of mentors,
Incantation, Morbid Angel, Immolation, etc… while
retaining the suffocating, oppressive Father
Befouled sound first heard on "Profano ad Regnum".
http://www.fatherbefouled.com/
http://www.nwnprod.com/
1. Rotting Godless Throne 5:04
2. Testament of Unholy Essence 3:29
3. Weeping in Heaven 3:10
11:43
http://hotfile.com/dl/77723211/4b5d9e11/
http://www.fileserve.com/file/D7KbcT6